---
Biggles Breaks the Silence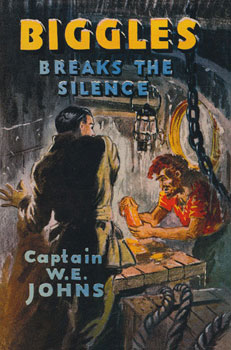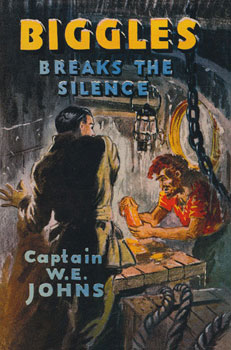 Subtitle
An adventure of Sergeant Bigglesworth, of the Special Air Police, and his comrades of the service
Published
August 1949 - Hodder & Stoughton [H/B]
Reprints
Hodder & Stoughton
Brockhampton Press
Armada Books
Longman Books
Severn House Publishers
Knight Books
House of Stratus
Canelo

41 Images Online
Goodreads rating

74 %


(69 votes cast)
.
A ghost ship full of long-lost gold beckons, and Biggles gets an icy reception...
Biggles, Algie, Bertie and Ginger are visited by Grimes, an old pal from the war, whose father, a Merchant Navy captain known as Jumbo, is in a spot of bother. He was recently tricked into skippering a crew of seal poachers to an islet off Antarctica. While there, they spotted an old ship - still rigged for sail - trapped in the pack ice. After an investigation of the ship, Jumbo overheard the words 'starry' and 'crown' from the jubilant crew.
An avid fan of an unsolved mysteries, Biggles immediately recognises the importance of these words. Jumbo and his crew had stumbled upon the long-lost schooner Starry Crown, which went missing seventy years prior with a ton of Australian gold ingots aboard. There have been several sightings and ill-fated recovery expeditions since, but no one has ever retrieved the gold.
Grimes reckons that they might be able to beat the poachers to the treasure if they were to go by air, and wonders if Biggles is interested in an adventure. After making a few enquiries, Biggles agrees to the expedition, but there is more than gold in the Starry Crown, and no help for miles across Antarctica's vast silence...
Wrap up warm for a classic Biggles adventure to the frozen continent of Antarctica.
goodreads summary
Obchodník v námořní dopravě se synem zaujme Bigglese historkou o zlaté koruně, která byla spatřena u vraku v Antarktidě. Uspořádají výpravu z Falklandských ostrovů s cílem jí najít.