---
Biggles in France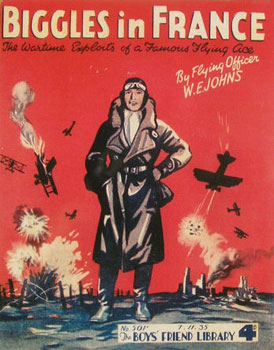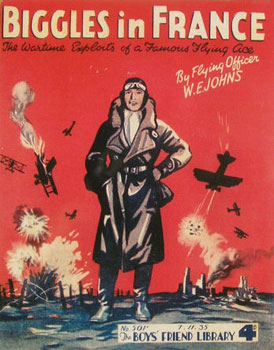 Published
Nov-35 - Boys' Friend Library [P/B]
Reprints
Red Fox
Norman Wright

11 Images Online
Goodreads rating

80.8 %


(252 votes cast)
Further adventures for Biggles and Algy at 266 Squadron on the Western Front during WWI.

Some of the stories were updated for WWII and re-used in Spitfire Parade, others were reprinted in Biggles of 266.
goodreads summary
A burst of bullets struck Biggles' machine somewhere just behind him, and he jerked the control-stick back into his stomach. A Hun shot past his wing-tip, so close that Biggles flinched.'That's too close!' he muttered. 'Where the dickens are the S. E.'s?'Biggles battles through the First World War, honing his flying skills in terrifying battles against the finest fighters the enemy can supply. But he finds war provides more light-hearted adventures as well, and this collection of stories from early in Biggles' career combines the fun of being part of 266 squadron and the fear of deadly serious aerial combat.