---
Biggles in the Baltic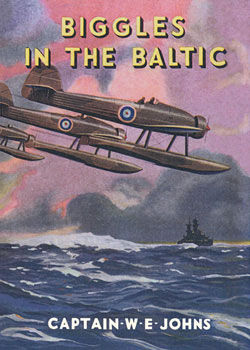 Goodreads rating

75.8 %


(115 votes cast)
War. Major Bigglesworth is commissioned by the R.A.F. and immediately assigned to a special duty. He has to take a secret squadron to a rocky island in the Baltic, there to harry the enemy from behind their lines.
Adventures befall them with fiendish rapidity, as we expect them to happen to Biggles. Their secret hide-out is almost immediately visited by a U-boat ... they have to undertake alarming flights over enemy country, once even landing to destroy a railway tunnel ... and finally their master stroke, they succeed in capturing the German Naval Code.
goodreads summary
Toen de tweede Wereldoorlog uitbrak, zat de veteraan uit de eerste oorlog, majoor Biggles, op zijn kamer met een paar oude vrienden te praten. zij werden natuurlijk een beetje stil van het radiobericht waarmee de oorlogsverklaring bekend werd gemaakt, en Biggles begreep meteen dat hij waarschijnlijk niet buiten spel zou blijven. Een telefoontje van het Luchtvaartministerie liet inderdaad niet lang op zich wachten en in een minimum van tijd werd Biggles door een geheime opdracht verwikkeld in een aantal avonturen waarbij je haren steil overeind gaan staan. Het is ook waarlijk geen kleinigheid om onder de neus van de vijand op een heel klein eiland een soort miniatuur-luchtbasis te vestigen en van die basis uit op de meest onverwachte momenten aanvallen te doen op kwetsbare punten van de vijand. Biggles had voor dat doel een kleine club van vertrouwde oorlogsmakkers gevormd en hij werd per onderzeeër naar het geheimzinnige plekje gebracht. En toen kwamen per geheime radiocode de opdrachten uit Engeland! Biggles zou Biggles niet zijn als hij ze niet keurig uitvoerde, maar je moet niet vragen of het gemakkelijk ging. Bij heel wat gelegenheden kropen Biggles en zijn kornuiten door het oog van de naald!