---
Biggles Presses On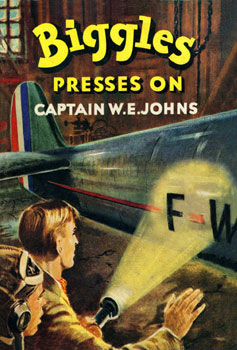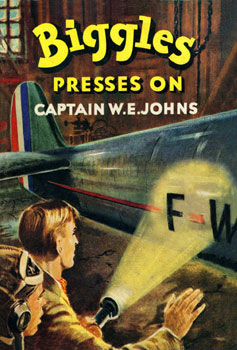 Subtitle
More adventures of Biggles and the Special Air Police
Published
January 1958 - Brockhampton Press [H/B]
Reprints
Brockhampton Press
Children's Book Club

19 Images Online
Goodreads rating

70 %


(16 votes cast)
Eleven cases involving Biggles and the Special Air Police team.
goodreads summary
This contains eleven short stories. These are as follows:-



THE CASE OF THE MAN ON A SPOT

A Polish man with secret documents has had his wife kidnapped to make him hand them back.



THE CASE OF THE SUBMERGED AIRCRAFT

A Gipsy Moth found ditched in a Scottish Loch leads Biggles to a wife murderer.



THE CASE OF THE SABOTAGED PARACHUTE

A parachute with the cords cut leads Biggles to uncover more than just a corpse. (Dust cover).



MISSION ORIENTAL

Biggles and the team go to rescue the family of the Sultan of Kulang, in Malaya.



THE CASE OF THE HAUNTED ISLAND

A trip to a Polynesian Atoll leads to the discovery of a wrecked ship with a corpse inside it.



THE CASE OF THE AMBITIOUS FISHMONGER

A plane is used to send Salmon caught by poachers down to London. Biggles finds the culprits.



THE CASE OF THE FATAL RUBY

A ruby called the 'Blood of Asia' is to be transported by a pilot who is planning to steal it.



FISHY BUSINESS

A rogue fur trader has found a clever way of importing furs and avoiding paying duty on them.



BIGGLES LAYS A GHOST

A ghostly old wartime American Flying Fortress is being seen in the skies. Biggles hunts it down.



MISCHIEF BY MOONLIGHT

A professional fence is using an aeroplane to get the proceeds of burglaries out of the country.



THE CASE OF THE STOLEN TRUCK

A lorry, loaded with potatoes, is stolen and Biggles uses a plane to find the truck from the air.